"Sense In Repetition, Sense In Objects" An Exhibition by TO Kin Chung Frank
SENSE IN REPETITION
RepetitionRepetitionRepetition Repetition = Habit
For one thing that I have to repeatedly do in order to keep the pain away, I shall do it.
For those who repeat the same routine everyday.
The reason behind, some remember, some forget.
RepetitionRepetitionRepetition Repetition = Pattern
When life is busy, I wish I could slow down;
When there's nothing to do, I wish I was busy.
Mr. O'Brien: But that's the way it goes in a world of billions.  You feel like a replicate, a molecule.  Facebook says, "Not the John Doe you were looking for?"
SENSE IN OBJECTS
Repetition = Reproduction
Reproduction of objects
If gestures of the objects can be frozen on canvas into something timeless and that everyday is transformed into the marvelous,
Representations of "Realness" may be captured through portraits of the most insignificant objects.
Mr. Benjamin: To a relationship to objects which does not emphasize their functional, utilitarian value – that is, their usefulness – but studies and loves them as the scene, the stage, of their fate.
The Artist:
Frank studied drawing, painting, ceramics, printing and photography during his secondary school years in the United Kingdom.  He went to Hong Kong afterwards and received a Master of Architecture from University of Hong Kong.  Projects in the period mostly involved design of 3-dimensional space, form, colour and material.  Now, Frank concentrates mainly on pencil, charcoal drawings and acrylic paintings.
這是一個關於 pattern 和物體的畫展。
SENSE IN REPETITION
重複重複重複再重複=習慣
如果一件事重複地做能令人忘記痛苦,我願意去做。
但亦有人有意地,或無意地,每天重複做著同樣的事情。
重複重複重複再重複= pattern
忙時,我希望停下來。閒時,我希望做不停。
Mr.  O'Brien: 在這個數量繁多的世界就是這樣,你感覺像複製,像個份子。 Facebook says, "Not the John Doe you were looking for?"
SENSE IN OBJECTS
重複=再造,物體的再造。
如果一件物體的形狀可以凝結在畫布上成為永存,那它每天都變得很美好,"真"就是這樣,透過最不起眼的物件的畫像而被捕捉到。
Mr. Benjamin: 和物體的關係並非建立在功能和實用性上﹣即它們的用處﹣而是以一個情景,一個舞台,或是它的命運去觀察它和愛它。
The Artist
Frank於英國接受中學教育,其間學習繪畫,陶瓷,攝影等。之後回到香港大學取得建築碩士學位。Frank於修讀建築時對三維空間,形體,顏色及物料的運用,均對他日後的藝術創作有深遠影響。他主要以鉛筆,木炭,塑膠彩為創作媒介。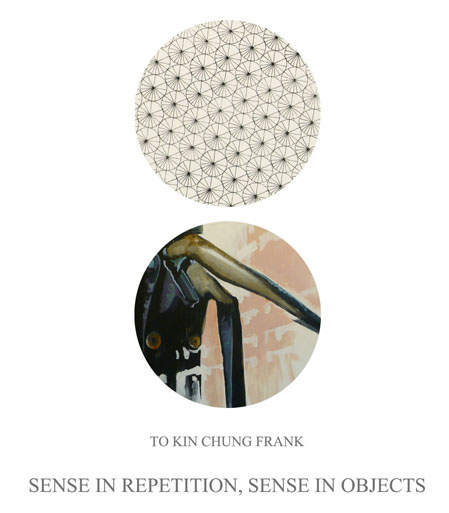 http://www.l-apres-midi.com/wp-content/uploads/2012/09/news_2.jpg
420
420
admin
http://www.l-apres-midi.com/wp-content/uploads/2020/06/l-a-m-300x63.png
admin
2012-09-11 18:29:37
2012-09-11 18:29:37
"Sense In Repetition, Sense In Objects" An Exhibition by TO Kin Chung Frank