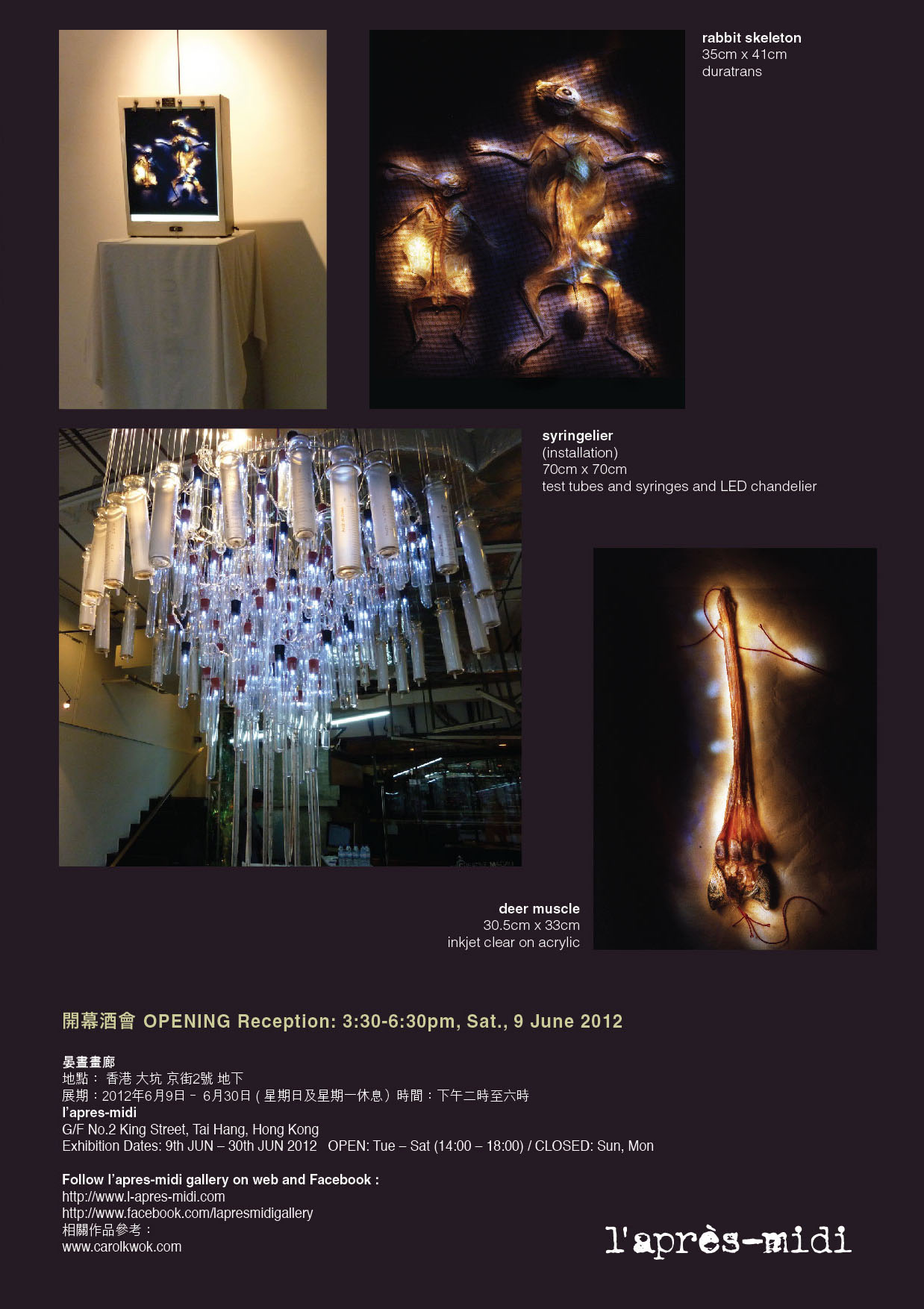 "經 脈" – 郭倩齊攝影裝置展
"經脈"為郭倩齊的攝影及裝置個展, 展出多件以中、西醫藥為題材的創作。 據她所說,經脈的由來為「在中國醫學內,它是讓能源循環運行的重要部分,以及調節身體機能的通道。這也是中醫師提到的陰陽以及五行……」郭出生於西醫世 家,但因一場疾病對中藥的神奇療效產生無窮興趣,因而出現了透過西醫家庭長大的背景去理解中藥的構想,她並借用祖父及父母的針筒等醫療器具,又將蟾蜍、鹿 筋、蚯蚓等中藥的影像以西醫X光機透視,將中西醫學融和其中,形成獨特的比照。
郭出生於澳門,年少時期移居加州,並取得藝術攝影學士。她曾在洛杉磯、紐約及北京工作。回流香港後設立了自己的工作室,與著名的廣告代理機構合作。幾年前她挑戰自己,全身投入藝術創意空間,積極於澳門、北京、倫敦、吉隆坡等地參與展覽。
"JINGMAI"  – photography and installation by Carol Kwok.
"JINGMAI", a combination of photography and installation by Carol Kwok. The installation includes old medical laboratory instruments which belonged to her grandparents and parents such as X-ray box, a chandelier made with test tubes, together with the photographs of different kinds of Chinese medicine. She stated that "in Chinese medicine, JINGMAI refers to passages through which vital energy circulates regulating bodily functions. Chinese doctors talked about Yin and Yan, and 5 elements…"
Carol Kwok was born in Macau and moved to California in her youth where she graduated in Fine Arts Photography. She worked in Los Angeles and New York before working as a portrait photographer in Beijing. She then went to Hong Kong to set up her own studio which allowed her to work with distinguished advertising agencies. A few years ago she challenged herself and became a full time artist and actively participated in exhibitions in Macau, Beijing, London and Kuala Lumpur.
http://www.l-apres-midi.com/wp-content/uploads/2012/06/JINGMAI-_invent-01b.jpg
1754
1238
admin
http://www.l-apres-midi.com/wp-content/uploads/2020/06/l-a-m-300x63.png
admin
2012-06-07 07:37:37
2012-06-07 07:37:37
"JINGMAI" "經 脈"