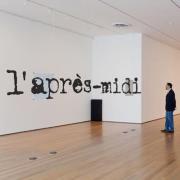 由懶洋洋的晏晝到熱鬧的舞火龍追月晚上,l'apres midi 晏晝畫廊選擇了九月十三日這個特別的曰子開幕。屆時我們的小晝廊將會擺放迪嘉,羅永強,郭倩齊,Frank To 的作品,任由你以藝術,擺設,或者你喜愛的角度欣賞。歡迎你於九月十三曰下晝三時半至七時到大坑京街二號晏晝畫廊,過一個與別不同的晏晝。

l'apres midi opening exhibition
13 Sept is the day after mid autumn festival, which the fire dragon will dance to celebrate. l'apres midi will open on the same day so everyone who come can enjoy the works by Tik Ka, Frank To, Carol Kwok, Wing and also the fire dragon dance at night. You are welcome to join our opening party at 3:30 to 7:00 at No. 2 King Street, Tai Hang and have a memorable afternoon.
http://www.l-apres-midi.com/wp-content/uploads/2011/09/276505_263369683683659_1563922288_n.jpg
180
180
admin
http://www.l-apres-midi.com/wp-content/uploads/2020/06/l-a-m-300x63.png
admin
2011-09-10 08:15:30
2011-09-10 08:15:30
晏晝開幕展